How can you stop the disruptive cycle?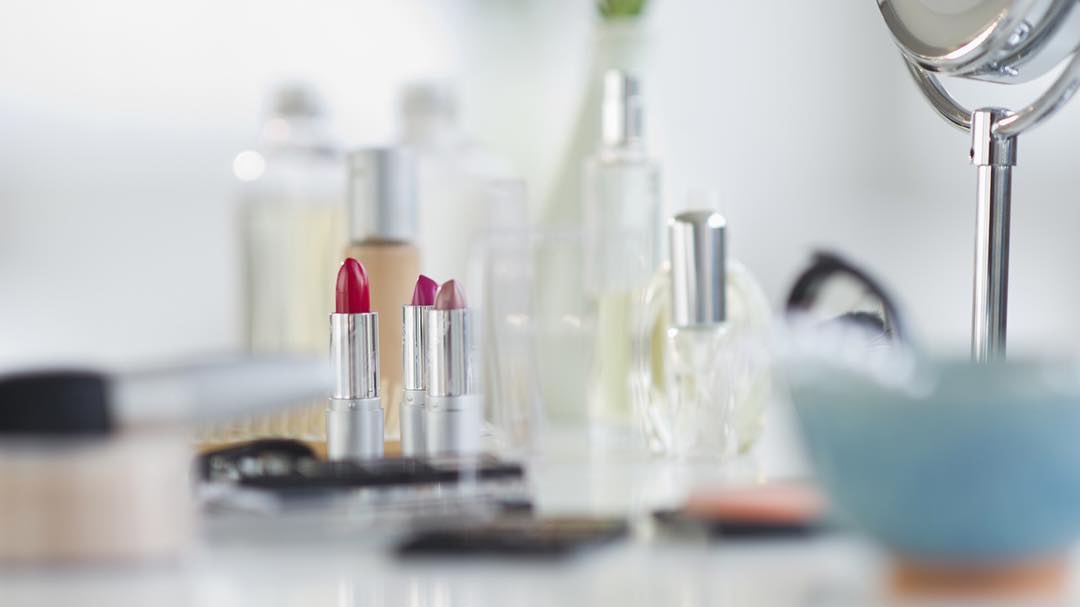 With the exception of color additives and a few prohibited ingredients, a cosmetic manufacturer may use almost any raw material as a cosmetic ingredient and market the product without an approval from the FDA,"- FDA.

The cosmetic industry is not FDA approved but FDA regulated. So, it has been flying under this umbrella for the past 81 years. The last piece of federal regulation (a single page) was passed in 1938. What this means is that cosmetic companies are free to do whatever they want without government supervision, bottling and packaging known carcinogens and endocrine disruptors into products that we use every single day, such as mascara, face wash, shampoo, deodorant, etc. Companies can use any adjectives to market their products like "green" and "eco". This means that what goes on the front of the package has no relevance to what ingredients they list at the back of it. They can hide any ingredient behind the words "fragrance" and "parfum". It is truly a "whatever works is good enough" formula.
Many countries around the world have banned several ingredients that are proven to be toxic for human use. The European union has banned 1,400 such products. Canada bans around 600 ingredients. The United States bans 30. A few weeks ago, California state assembly's Environment, Safety and Toxic Materials Committee put off a scheduled vote on the Toxic-Free Cosmetics Act (AB 495) as they did not have enough votes to move the bill to the Assembly Health Committee. This bill defines a "toxic 20" list of potentially harmful ingredients and prohibits their use in personal-care goods. The more than multi-billion cosmetics industry has seemingly prevailed over consumer safety yet again.
What are some of the most toxic ingredients found commonly in personal-care products and why are they toxic? Phthalates are used to make nail polish stronger. They can cause reproductive and developmental issues. Parabens are included in many cosmetics and hair products, allowing them to last longer by inhibiting growth of bacteria and mold. They're carcinogenic and can disrupt hormone function. Formaldehyde serves as a hair straightener and nail hardener. It too can cause cancer. Mercury and the pigment carbon black can be found in eye makeup. They've been linked to cancer and reproductive toxicity.
There are over 80,000 chemicals found in cosmetics, a majority of which have not been tested for safety for human use. We assume that the FDA regulates all ingredients in the cosmetics industry and that they would not allow companies to use harmful ingredients. The reality is that it could not be further from the truth. The FDA does not test majority of ingredients for safety. I'm not trying to say that the FDA is the bad guy here. Given the vast number of chemicals used in personal-care these days, it is simply impossible for the FDA to monitor every single ingredient used in the market today. What is the solution then? Three words- Testing, Transparency and Advocacy. Three words that are at the heart of Beautycounter's mission. This company uses third party testing for contaminants in color cosmetics. They screen every potential ingredient for 23 health and safety endpoints, including information on specific hazards like cancer, developmental toxicity, hormonal disruption, and infertility at three different points in the development cycle. They test their color cosmetics for heavy metals. This company is going above and beyond not only to not use harmful ingredients, but they are actively testing their products to make sure there aren't contaminants. No other cosmetics company is doing this. We may not realize this but there can be several contaminants even in organic cosmetics products. Simply for reasons like something was stored in plastic, or because lead is a naturally occurring substance in mineral makeup. Lead is banned in paint but it's not banned in lipstick.
As we saw earlier, Europe has banned over 1,400 harmful ingredients in their cosmetics. The US has banned around 30. Beautycounter has banned over 1,500 toxic ingredients from their products.
This company sets themselves to a higher standard. Popular ingredients on their Never List include:
fragrance
PEGs
parabens
formaldehyde
hydroquinone
BHA and BHT
phthalates
retinol and retinyl palmitate (Vitamin A)
sodium lauryl sulfate (SLS)
tuolene
oxybenoze
They are a certified B corporation. The B stands for "benefit". To be certified as a B corporation, a brand must meet high standards of social and environmental performance, accountability, and transparency. They are part of this wonderful and growing community of more than 2,600 certified B corps from 50 countries and over 150 industries working together to redefine success in business. They are certified as a B corp because of their continued efforts towards making safer products, sustainability, charitable giving, advocacy and transparency. They were recently recertified as a B corp with a score of 95, a 14-point jump from two years ago.
Beautycounter believes that cleaner, better beauty begins with telling the consumer what's in their products. They want to empower consumers to demand better from the beauty industry by educating them about harmful chemicals in beauty products and recommending safer alternatives whenever possible. This company truly believes that true change happens when education and advocacy meet. Beautycounter tirelessly advocates for stricter guidelines and regulatory laws to shift the personal care industry away from harmful and questionable ingredients.
Given these points to ponder, I want to ask you the simple question "Whom will you trust with your personal care needs?' Recently, actress Michelle Pfeiffer has launched her line of fragrances called Henry Rose. She wanted to create a line of clean fragrances and has waited patiently for 10 years as she was repeatedly told that no fragrance is 100% ecological. She persisted and now her fragrances are the first to be verified by the EWG (https://www.ewg.org/). With patience, transparency and education, we can all look forward to a cleaner tomorrow for ourselves and our children.
I'm glad to have finally found a company that uses the best quality, safe ingredients for beauty products that we can actually trust.  Check Beautycounter out for yourself TODAY using this link:
Shop Beautycounter's Safer Skincare & Better Beauty Products