Gluten Free Almond Brownies
Posted 5 years, 10 months ago
Recipes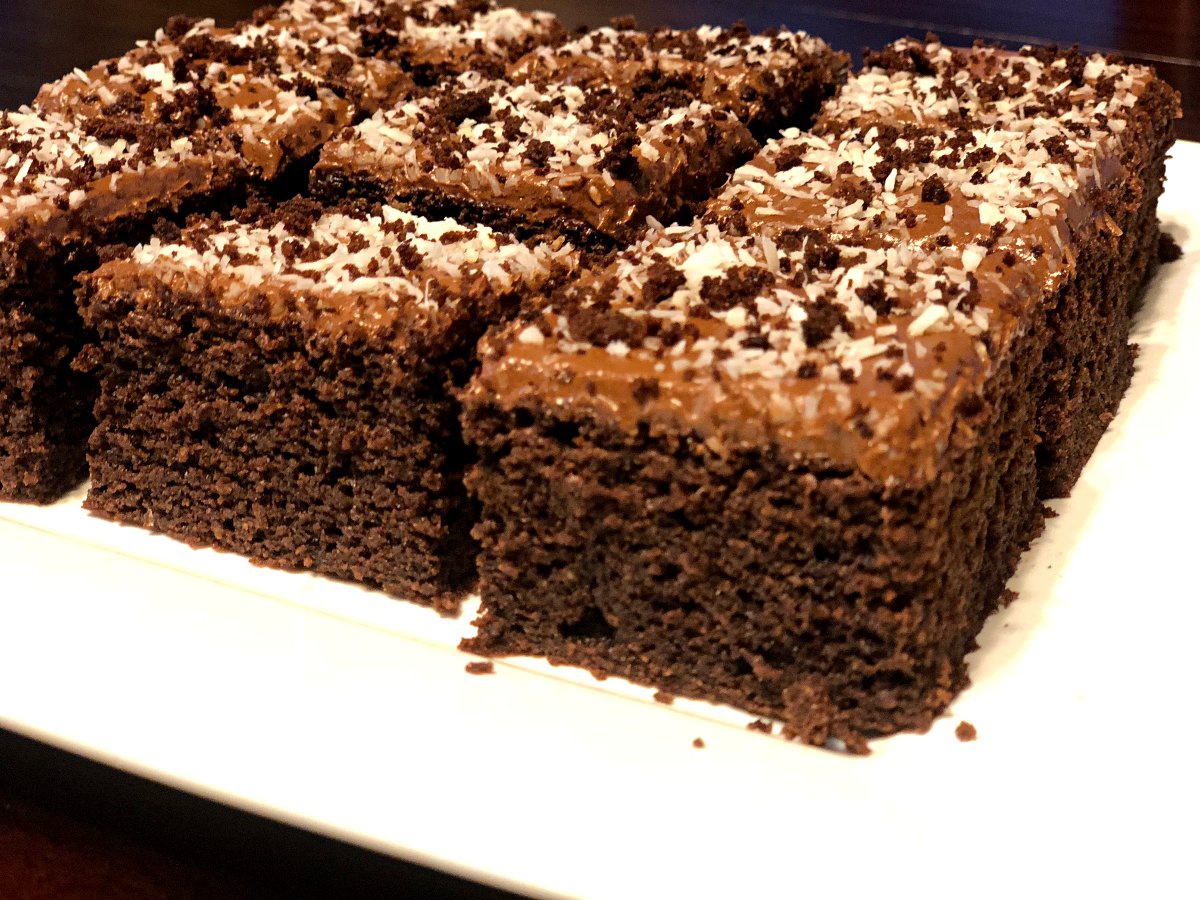 With this homemade brownie recipe you'll never want a box mix again! Chris and I love these rich, chocolate brownies on Friday nights when we watch our favorite show. They are so simple to make, sugar free (really important for me) and they taste amazing. You will fall in love with the flavor of fresh brownies you cook yourself.
These are sure to cure all your chocolate cravings and can be mixed up in minutes. I know what you are thinking right now, you are too busy for homemade brownies. Mixes from a box sound pretty convenient, but just make these once and you'll taste the difference, and you definitely won't be going back to the box.
What is important to me they are completely sugar and gluten free, no chemicals or weird substitute ingredients. Instead I used just a half cup of raw honey and almond flour as the main ingredients. Don't forget real, unprocessed Cacao powder: http://amzn.to/2EnnUiS.
I top them with this yummy and creamy chocolate frosting using @nunaturals Cocoa Syrup. It's delicious and absolutely sugar free. I'm using this Stevia based Cocoa Syrup in lots of my recipes lately and absolutely love it!
Ingredients:
1 3/4 cup blanched Almond flour
1 teaspoon Coconut flour
1/4 teaspoon Sea salt
1/4 teaspoon Baking soda

½

cup unsalted butter

½

cup 100% baking chocolate
2 tablespoons unsweetened Cacao powder

½

cup Honey
3 large Eggs
2 tsp Vanilla extract
Frosting:
½ cup grass fed, unsalted butter
½ cup Nunaturals Cocoa Syrup
2 tsp Vanilla Extract
Use this amazon link to order yourself a bottle of Nunaturals: http://amzn.to/2BCKxfW
Directions:
Preheat oven to 340 F. Lightly Coconut oil an 8 by 8 inch baking dish.
In a small bowl, mix together dry ingredients and set aside
Place the butter into a small saucepan and melt over medium heat. Add the chocolate and the cacao powder. Stir until the chocolate is completely melted. Set aside to cool.
In a large bowl whisk together the eggs, honey and vanilla. Slowly whisk in the cooled chocolate mixture.
Next, slowly add the dry ingredients to the wet while whisking vigorously.
Pour the batter into the baking dish.
Bake for 25-28 minutes until a toothpick comes out clean. Remove from oven and allow to cool completely in the baking dish, then cut into pieces and decorate with frosting and coconut flakes.
Frosting Directions:
Add the ingredients to a mixing bowl and mix on low speed until the butter starts to soften.
Increase speed and whip until smooth and creamy.
Enjoy! I promise you won't regret making them!